The most challenging part of running an online store is not setting it up, but it's how to market it. There are tons of ways you can go about marketing, from SEO, PPC, and even YouTube videos.
Having a solid marketing strategy is crucial to succeeding in online business. What's more important is that you need to strike a balance between your marketing strategies – you don't want to put all of your eggs in one basket.
You can think of eCommerce marketing as a roadmap. If you just go down one street, you won't make it to your destination. You have to follow the entire route to reach your goal.
To help you make sense of eCommerce marketing, I've put together an infographic and an eBook in which I've listed 19 strategies that you should implement to make the most of your outreach and marketing efforts.
Click on the image below to see a larger, clearer version:
Click here to see a larger version of the infographic.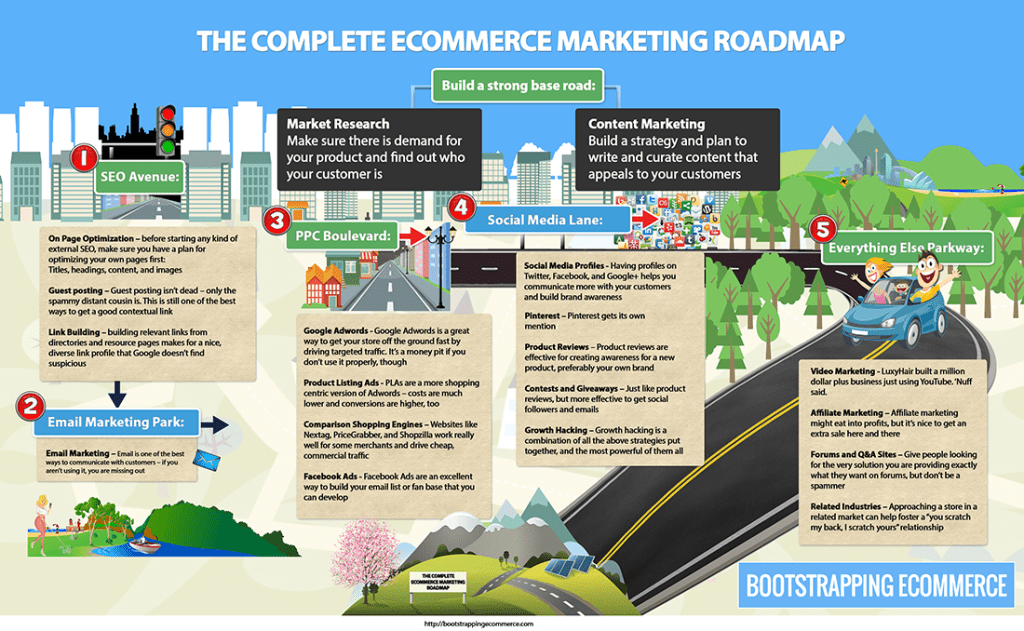 eBook
In my 42 page eBook, "The RIGHT Way To Do Ecommerce Marketing", I talk about each of these 19 strategies in further detail, help you prioritize your marketing efforts, and show you how to best utilize each one. I've also included a large list of resources that you can refer to for learning more about each strategy.
To download the eBook for FREE, fill out the form below to request a copy and I'll send you one right away!
Some of the things you will learn are:
Why you need to have a blog for your online store
On-page SEO optimization
Why you are missing out if you aren't doing email marketing
When you should and shouldn't do reviews on other blogs
And much more!
Conclusion
Ecommerce marketing isn't hard – it's just a lot of effort and work, that if you do properly, will pay off big time. If you don't have time to go through all of the points on the infographic, here are the main strategies that you NEED to implement, even if you can't do the rest:
Content marketing
SEO
PPC advertising
Email marketing
Social Media profiles
Implementing just these strategies themselves will create a solid foundation for your online store. Once you gain some traction with these, you can branch out into other strategies as well for a more rounded approach.What strategies have you found to have the highest return? Please share with us in the comments!
Please share this post if you found it useful!