Big news: Last month (April), I turned my store into an Amazon Affiliates website. I'm no longer selling my own drop-shipped goods. Instead, I'm funneling traffic to Amazon.com using affiliate links, adapting the revenue model advocated by many such as Spencer Haws and Jon Haver.
This post is going to be VERY transparent – I'll be sharing Analytics and revenues, with screenshots.
I was mulling over this decision for a very long time. I think it must have been for about 3-4 months before I finally decided to take the plunge and go for it.
A Store's Story
There were a lot of factors that went into this decision. I was actually planning on transitioning last winter, seeing disappointing results, but I figured that since my niche is very seasonal, I'd wait out summer to see how that went.
The biggest problem that I had throughout(the store went live in March 2013) was that conversions were abysmal. I'd consistently get 300 visits per day, but often would go weeks without any sales.
Most of this traffic was either organic or referral. I had put a lot of effort into SEO, doing guest posts, building links, creating infographics, and the works. This effort was also paying off – with the traffic that I was getting.
My PPC campaigns were laser targeted, getting very high click-through rates, high-quality scores, but again, no conversions.
What really bugged me was that my website was by far the most authoritative on the internet about my product. Every other competitor used manufacturer descriptions, while I wrote each one myself, as if I was explaining it to someone who had no idea about the niche. I highlighted trust symbols. I added what little social proof I had. I did nearly everything possible to improve conversions, yet no luck.
Hell, I even tried slashing my prices, figuring it was a pricing issue since my competitors sold the things cheaper. I drove traffic using PPC to my now cheaper, still-better-than-competitor pages and still no sales.
The interesting thing was that a large portion of my traffic was going to my content pages. These pages did funnel into product pages, but I converted much, much less than I'd have liked. It was page about "The Best Widget." That's what originally gave me the idea to experiment with the Amazon revenue model, since Spencer Haws' public case study site was Best Survival Knife Guide.
Coming back to the store's history, December 2013 was a good month. I must have made around $500 net, and got around one order per day.
This highlights another aspect of my niche that really bugged me. The margins. I sell products between $200-500, but my margins are between 10-15%. I'd also have to offer free shipping to stay competitive, and after credit card fees, I wouldn't really make so much per order. That's why, after about $10,000 of revenue, I only netted $500 – just a measly 5%.
After December, January and February were incredibly slow, and I must have gotten maybe 5 or 10 orders between the two months.
March fared a little better, with some nice orders and a net profit of about $500. My hopes started to pick up. Summer was approaching, and sales can only climb from here. Suddenly, though, in April, traffic took a nosedive(no penalties or anything), and sales evaporated.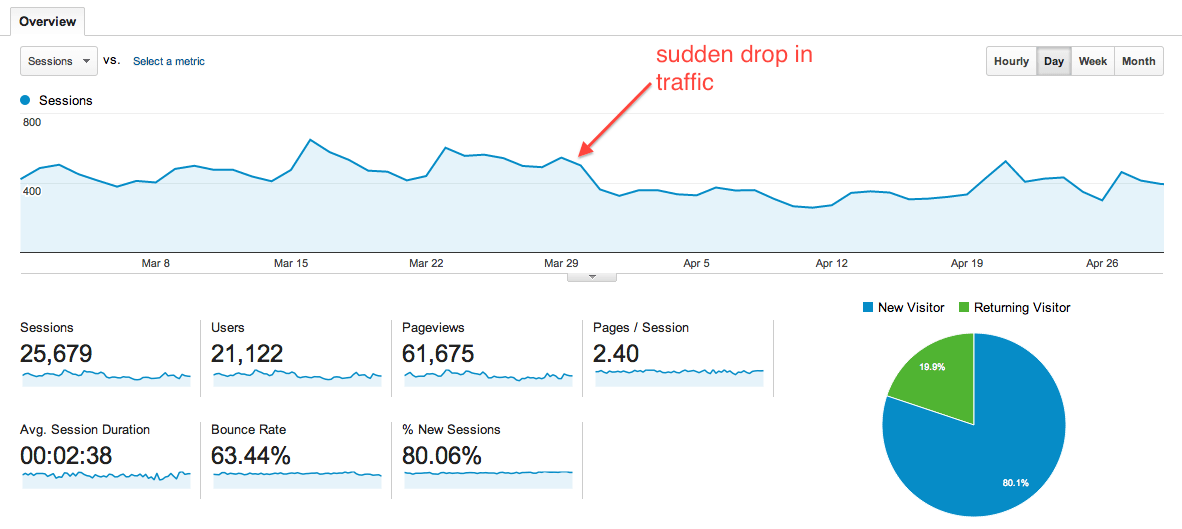 This was the tipping point. I decided that it wasn't worth the trouble anymore, with the low margins and the low conversions, and not wanting to lose any SEO efforts, I moved my store from BigCommerce to a WordPress installation, and added affiliate links to Amazon.
How I Transitioned
Since SEO traffic and referral traffic were my main drivers, I had to sit down and decide how many pages I wanted to keep in the new site. Since the new angle would be "widget reviews" instead of "widgets," I could only keep those products that actually had nice, lengthy descriptions that could double as reviews.
All accessories only had one line descriptions stating what they were, and most were things that you couldn't just say too much more about.
So I went over to Google Analytics, brought up the last 3 months of data, and looked at all the landing pages – pages that people landed on directly. I exported the results to Excel, and started identifying pages to transfer. The strongest performs were kept, of course, as were any accessories that got lots of traffic.
If it was difficult to make an entire post out of that one accessory, I grouped a few together and redirected all the old URLs to the new one.
I also kept most of the major product pages and turned them into reviews. The content pages transitioned as-is.
I set up an account with BlueHost, and they allotted me a temporary folder, which they informed me would shift to my domain once I connected it to BlueHost. I installed WordPress into the temp folder, and started creating the pages.
I'd use the spreadsheet to copy over the URLs as best as I could, and where I couldn't, I made another CSV of old URLs and new URLs which I later bulk uploaded to WordPress as 301 redirects using a handy plugin.
I'd have my store open in one tab, and WordPress in another. Copy-paste, Copy-paste. Then I'd add the Amazon Affiliates link in the product image, between the review, and at the bottom of the review.
That was pretty much it. I used StudioPress Genesis themes, and pretty standard plugins: Digg Digg for social sharing, Simple 301 Redirects, Ultimate Nofollow(to nofollow the Amazon links), and a sidebar widget that highlights posts and pages. I copied the very same Google Analytics code into the WordPress site, pointed my domain at BlueHost, and shut down the old store.
Results
In about one month(plus one week, the last of April), results have been promising. Traffic has started to increase again. I'm theorizing that this is because of:
a) I no longer have extraneous pages leeching link juice from every page(my store used to have nearly 90-100 links on each page).
b) Many of my target keywords switched from just "Blue widget," which is pretty competitive, to "Blue widget review," which is much easier.
c) Overall demand is picking up again.
Here's a look at Analytics for this month: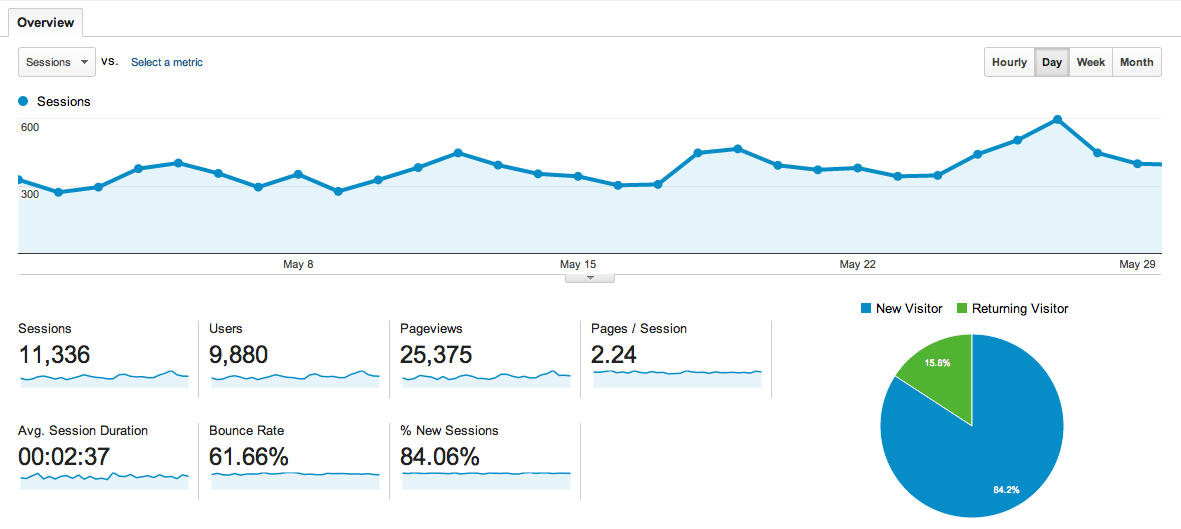 Clicks to conversions were also much more promising. Keep in mind though that after a viewer visits Amazon from your affiliate link, you get a commission on anything they buy within the next 24 hours. So my conversion rate is pretty high in that sense, but not all of those sales were for my products.

Note: product link clicks are links that go directly to products, and other clicks are links that go to categories or search results.
From 11,000 visits, I got 6000 clicks! That means one out of two visitors clicked a link to Amazon. Win!
From those 6000 clicks, 2.45% of people bought something or the other – not bad, I'm actually well above industry average here.
Looking at the number of clicks to products that actually result in those products being sold, the numbers are a bit bleaker – and more fitting to the industry average:

The number you want to look at is 16 – that's the time someone clicked to a product and bought that very item. That's not to say all the remaining products I got a commission for weren't widgets – in fact, maybe 30-40% of all the items were widgets, just not direct clicks.
Now for the fun part – let's talk about hard cash:

All in all, I sold 144 items for Amazon, getting them $10,000 in revenue, and earning myself a neat $500. These numbers look strangely familiar! This is the exact same I did during my store's best month – this involved me talking to customers, processing orders, and a whole lot more work than this site. In fact, once the site was live and I was satisfied, I haven't even touched it!
This is $500 of completely passive income.
Closing Thoughts
A couple of weeks ago, I had a discussion with Leighton Taylor on the eCommercePulse podcast about what to do with a business that isn't performing as well as you had hoped.
For me, I had reached a point where I was no longer satisfied with the business as an online store, and with the low conversions and dismal margins, it just didn't feel worth it anymore to put in so much time and effort every day for such a low reward. I didn't want to lose all my SEO effort, so I decided to experiment like this.
I'm happy with $500 in my first month. Amazon's commissions are tiered – so they start you out at 4%, and slowly bump you up with every so many sales you send their way – at this rate, even I sell the exact same items next month, I'll make about 1.5 times more that this month because my commissions will be higher.
In retrospect, the niche I chose was easy to get traffic in, but very difficult to convert – perhaps my audience isn't too tech savvy, or they are very likely to hunt for deals – that's probably why Amazon did a lot better than me with sales!
I'm probably going to add a bit of content to the site regularly to keep it fresh, and I'll split the revenue I get from it between spending money and money saved up as capital for a future venture.
So there you have it. All there, in black and white. What do you guys think?