I hope you all are as excited about this post as I am! I had the privilege of interviewing Shopify's Build-A-Business contest winner Shawn Rowland of Drones Etc. Shawn and his partner Jonathan Baird have always wanted to start a business together. They tried three times before the fourth business – this one – took off. Shawn is a medical resident, and Jon used to work at a bank – but since the business has kicked off, Jon works full-time at Drones Etc. along with 6 employees.
What really inspired me about their story is their tenacity – this is their fourth venture – and how targeted their niche was. We also really love Shopify's Build-A-Business contest and wanted to spread the word about it. To learn more about Shopify and what they offer, check out this Shopify Review. Shawn was kind enough to share their story with us, so without any further ado, here's the interview!
Shabbir: Could you start off by giving a quick overview of your entrepreneurial journey – how you got to selling drones?
Shawn: As I was preparing to graduate from medical school, I had a little bit of free time. Having hundreds of thousands of dollars of debt hanging over me was motivation enough to want to look into other avenues to make some money and improve my family's future prospects. I didn't necessarily want to spend the rest of my life working 80+ hours per week as a physician. I wanted to be a doctor for the fulfilling aspect of helping others, not for the money.
After talking to my best friend from high school, he was feeling similarly with regards to wanting a career that would allow free time to spend with his family and provide them unique experiences. So we were on the hunt for a lucrative business partnership.
Meanwhile, I had been looking at videos and forums about drones for a few months as a kind of hobby interest. Knowing that my free time was limited and that while I would have liked to have been able to take the time to buy separate components and build my own quad/hexa copter from scratch, I didn't have that kind of time to dedicate. So, I decided on the DJI Phantom.
At the time, it appeared to be the best ready to fly drone on the market. My father was also interested in the new technology and so we purchased our first drone together along with a GoPro camera. It was purely a recreational purchase. At the time, I never had any inclination to build a business around the burgeoning industry. Then came the first time I held the controller in my hands, spun up the propellers, and lifted the drone off the ground.
What a thrill! It was so easy and so fun! My first thought was, "How can this be legal? I don't have a permit or anything and I haven't had this much fun in a long time." My next thought was, "This is going to be HUGE! There are limitless applications to this new technology."
Shabbir: Could you share some of the criteria you analyzed when going into the drones niche?
Shawn: My business partner, Jon, and I had been searching for a product that would have a lot of demand but that didn't already have a saturated market. Easier said than done. At the time, drones were still relatively unknown. They were just starting to gain some recognition and popularity but the industry as a whole was still really new.
For the same reasons that the Phantom appealed to me (easy entry level access to a fairly high performance quadcopter) I decided that it would be the one to look into further. So I contacted the manufacturer in China and made inquires about what it would take to be a dealer. It boiled down to a large (for us) initial capital investment to purchase inventory up front.
When I first spoke to Jon about it, he was extremely hesitant at the idea of forking over tens of thousands of dollars to buy inventory for a product that 1, he had never heard of, and 2, had no idea how or if it would sell. I kept working on him and knew that I had to get him to see one in action and fly one for himself. In the meantime, I built an ecommerce website and eventually Jon was convinced to put his toe in the water.
We went live with our site without having a single drone in inventory! It took less than a day to make our first sale. A sale which we fulfilled by purchasing a drone from a competitor and mailing it to our customer at a loss of course. But it proved the concept enough to convince Jon to put up the capital and we purchased our first order of drones from DJI. Since then we haven't looked back. With over 3 million dollars of sales in the last 3 quarters.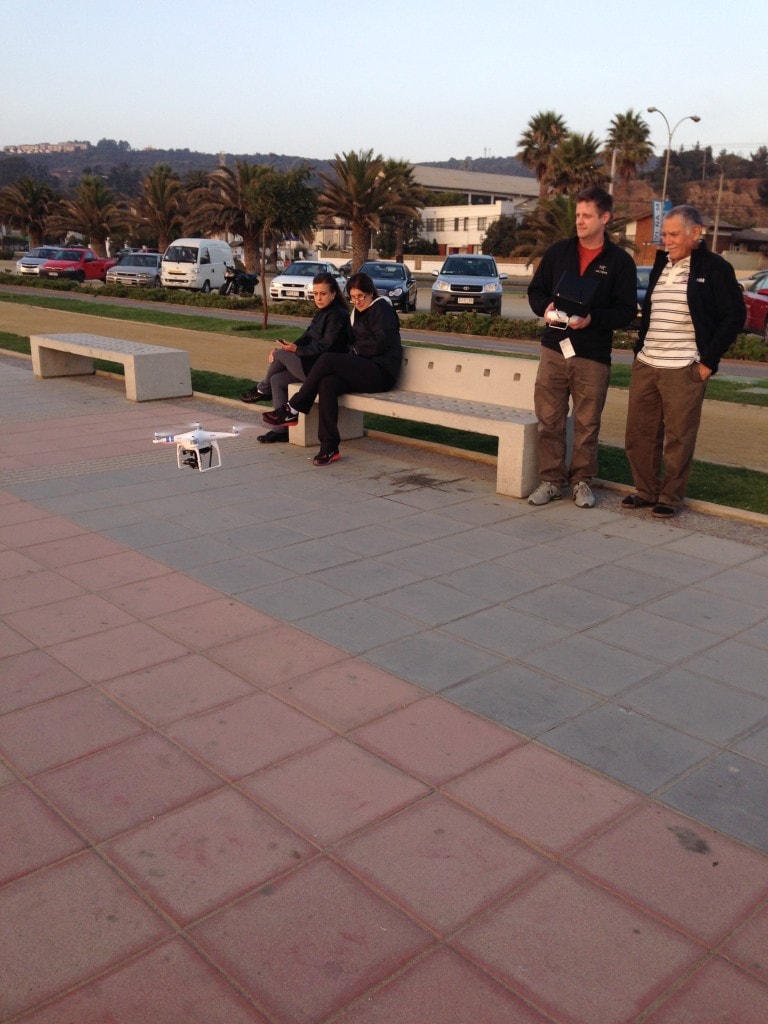 Shawn flying his drone in Viña del Mar, Chile
Shabbir: I really like how you said "This is going to be HUGE! There are limitless applications to this new technology." At that time, had you already identified who your potential customers were going to be or were you still looking around?
Shawn: We really had no idea initially. All we knew was that they were a lot of fun and had a lot of potential. That was part of why it was scary at first because we didn't have proof of an existing market. In fact, after researching we found that there were a number of hobby shops that had the DJI Phantom in the inventory but weren't promoting it in any way and obviously didn't see the potential in it. I think, mainly, because they deal with purely hobbiest type customers. Our first professional customers were Real Estate agents. After that, producers, cinematographers…
Shabbir: It seems that your main reasoning for getting into drones was that the niche was fairly unknown at the time – did you base that off of popular notions(stuff you generally see/hear in the media and in conversation) or did you dig a little deeper?
Shawn: Well, at lot of that initial research into the market was done incidentally as we researched what and where to buy our own drone for personal use before we had the idea to make it a business. We looked at a lot of forums, youtube videos and comments, and a few media articles.
Shabbir: Did you crunch any numbers or ask around anywhere?
Shawn: There were so many unknowns at the time with regards to what our costs would be (shipping, warehousing, warranty claims, etc.) that all we could do when it came time to look at the numbers was to calculate a rough profit margin and compare that to the degree of risk we felt we were taking when placing that first order. We were fairly confident that as a worst case scenario we could beat the pavement and sell these things locally even if it meant going door-to-door. So that was our 'backup plan' should things not go well with online sales.
Shabbir: Wow, one sale on the first day! That must have been an incredible feeling! How did your first customer find you?
Shawn: To gain some initial traction with our online presence we went to forums and posted answers to questions while using the opportunity to get our web address out there. We also ran a very short and very limited PPC campaign on Google. I think that the adwords was where our first customer came from. We haven't done PPC since.
Shabbir: Do you get repeat business? Was it something you anticipated going into the niche?
Shawn: Yes we actually get a fair amount of repeat business. Both customers who come back to purchase accessories as well as customers who upgrade when new drones come out.
Shabbir: Have you diversified your traffic sources?
Shawn: We currently sell on our main ecommerce site, Amazon, and eBay. In addition, we are active on Facebook, Twitter, and Instagram. While we have yet to run a PPC campaign, this is planned for the near future.
Shabbir: As a successful online entrepreneur, what one sentence of advice would you give someone that dreams of having their own business?
Shawn: The internet has truly leveled the playing field when it comes to finding success in the business world, as long as you're willing to be 100% dedicated ALL the time, you CAN and WILL succeed!
I'd really appreciate it if you share this post with your friends – and please leave a comment and add to the discussion!