Social media marketing is a very important part of any well-rounded marketing strategy. In fact, if you aren't doing it, you are missing out on a big, big opportunity to connect with your customers.
When customers visit your store, they are visiting a business – and they are usually very business-like in the manner. When they interact with your social media accounts, they are interacting with a person. Companies that have better social media presences have much better branding and relations with customers.
Social media can also be a very powerful way to push your search engine rankings, too – since more social shares means more eyeballs on your content, and more eyeballs means more people will potentially link to you.
Among social networks, Facebook and Pinterest take the cake for profitability. For this post, I had the privilege of interviewing Carole Rains, a social media marketing queen. Carole runs Rustic Artistry, where she sells artisan crafted rustic home decor. She is a true ecommerce aficionado – ecommerce runs through her veins. What I love about talking to her is that she is in ecommerce for the love of doing it – which sets her up strongly for success in whichever niche she goes into.
What's more, Carole has been one of my most loyal and upfront readers – and her feedback has been instrumental in my writing and blogging. So let's dive in!
Shabbir: Carole, could you start off by telling us a little about your background?
Carole: So for me ecommerce is my third major career. Previously, I worked in pharmaceutical marketing, and when I had had enough of the corporate world, I found a job as a cook at a restaurant so I could explore my growing interest in food. I did that for many years, and although I developed recipes for a mean crab cake and awesome chili, eventually I stopped feeling challenged mentally and I knew it was time for a change.
At the time, my daughter was starting her own career in website design and some of her entrepreneurial spirit must have rubbed off on me. I decided I wanted to start my own business, and since I was already very proficient at shopping online, an ecommerce store of my own felt like the perfect fit. My first mentors in ecommerce were Steve Chou of mywifequitherjob.com and Andrew Youderian of ecommercefuel.com.
Utilizing the resources offered by the two of them, I took the first steps toward starting my own business. The concept for Rustic Artistry was triggered by my search a few years earlier for a cowhide chair, and my appreciation for artisan-crafted decor. I realized that finding unique rustic furniture was not an easy task. And the artisans who made rustic furniture and decor were much better at building than at marketing themselves. So I combined the two and created Rustic Artistry, where I showcase artisan-crafted rustic chic furniture and decor that is built to order and completely customizable.
Finding and partnering with craftsmen was a lengthy but very fun task. I dug deep into the web for anything related to rustic decor, looked up the members of regional craftsmen organizations, and followed any link I could to find the names and websites of people building rustic furniture. I'd then send an email explaining my business model and offer them exposure for their work in exchange for a commission on anything I sold.
I promote them on my website, with email campaigns, blogger outreach, and very active Pinterest and Facebook communities. It gives me great pleasure to connect a customer with an artisan and have a beautiful piece of rustic furniture created as a result. Learning all about ecommerce and marketing methods has been so energizing for me.
I spent the first year reading every ecomm blog I could, listening to podcasts, and asking lots of questions in the comments sections. I signed up for some of Ezra Firestone's trainings through smartmarketer.com and have advanced exponentially in my knowledge as a result. So now I am in a position to know how to put together effective email campaigns, how to promote on Facebook, and my specialty, how to use Pinterest to promote my business. The next area I plan to become proficient at is Google ads. Sometimes I feel like my head is bursting with all there is to learn. But I love it!
Shabbir: That's amazing. I really like how you took such a lean approach at selling. This way, you didn't tie up any capital in inventory and instead invested in your own education. Can you talk a little bit about how you used Facebook and Pinterest to promote your business?
Carole: Since I'm a solopreneur, I can't be on all of the different social media platforms to promote Rustic Artistry. I decided to focus my efforts on Pinterest and Facebook. They are the most relevant for reaching my target audience of women 45+, which is what my my Google and Facebook analytics revealed. They're also excellent platforms for a brand that is visually driven.
When I launched Rustic Artistry in the summer of 2013 I already had a personal Pinterest account set up which included a board called Make Mine Rustic. I had already accumulated several hundred pins on that board and it had around 200 followers. I changed the account from a personal account to a business account so that I could hit the ground running with that board and followers already in place. Then I added other boards that expanded on the rustic theme.
Through diligent pinning of new content, following and repinning others, and promoting my boards on the Facebook page, I have grown my number of followers to more than 5,000 in a year. I use a Pinterest analytics service called Tailwind and from that I can see that I am getting around 30-50 new followers a day and 300-500 repins a day. One of my most successful techniques for using Pinterest for business is to create my own pins in Picmonkey that encourage email signups and link directly to my signup form. These truly show the viral power of Pinterest, as they continue to be repinned months after I first posted them.
I've seen a lot of businesses try to promote their products on Pinterest by creating boards that have a pin for each of their products, but no other pins on the board. This doesn't work, as there is no fresh content being posted after the initial push, and it doesn't address the very important aspect of appealing to your followers' lifestyle, which is done by pinning things other than your products. So I may pin 20 lifestyle pins for every one pin of a product. That is what keeps people interested and triggers new followers. Then I slip in a product pitch every now and then.
I follow the same strategy with the Facebook page for Rustic Artistry. I post the best photos I can find that have some connection to "rustic", then occasionally post a new product or a special offer. I've also run Facebook ads, using the Audience Interests tool to target fans of competitors' pages and other relevant interests. I should point out, however, that I consider both Facebook and Pinterest to be vehicles that I use to generate brand awareness as opposed to a quantifiable ROI.
Shabbir: You said "through diligent pinning of new content, following and repinning others, and promoting my boards on the Facebook page…" When you follow and repin others, how likely is it that they will follow you(or a board) back?
Carole: That's a good question. Actually it usually happens the other way around for me: I'll look at my analytics and see that someone has pinned from my website, then I'll check out their boards and if I find one that is a good fit I'll start following that. If I find a board that belongs to someone who isn't following me but I WANT them to, then I will post a comment in their most recent pin to let them know I like their board and they may want to check out my board. But I've never bothered to go back and see if someone actually started following. With 30+ new followers a day I can't keep track!
Shabbir: Is there an automated way you use to promote boards on your Facebook page or do you manually post them?
Carole: There are a couple of ways to promote your boards via Facebook. First, create a tab that links to your Pinterest account. This is done in the Facebook Apps section. The second way is to occasionally post about your Pinterest boards. For example, I will select a few pictures from my boards and upload them to a Facebook along with a status such as "If you like the photos I post on Facebook, there are waaaaay more on my Pinterest boards." And then I include the link to my Pinterest URL. Here's an example: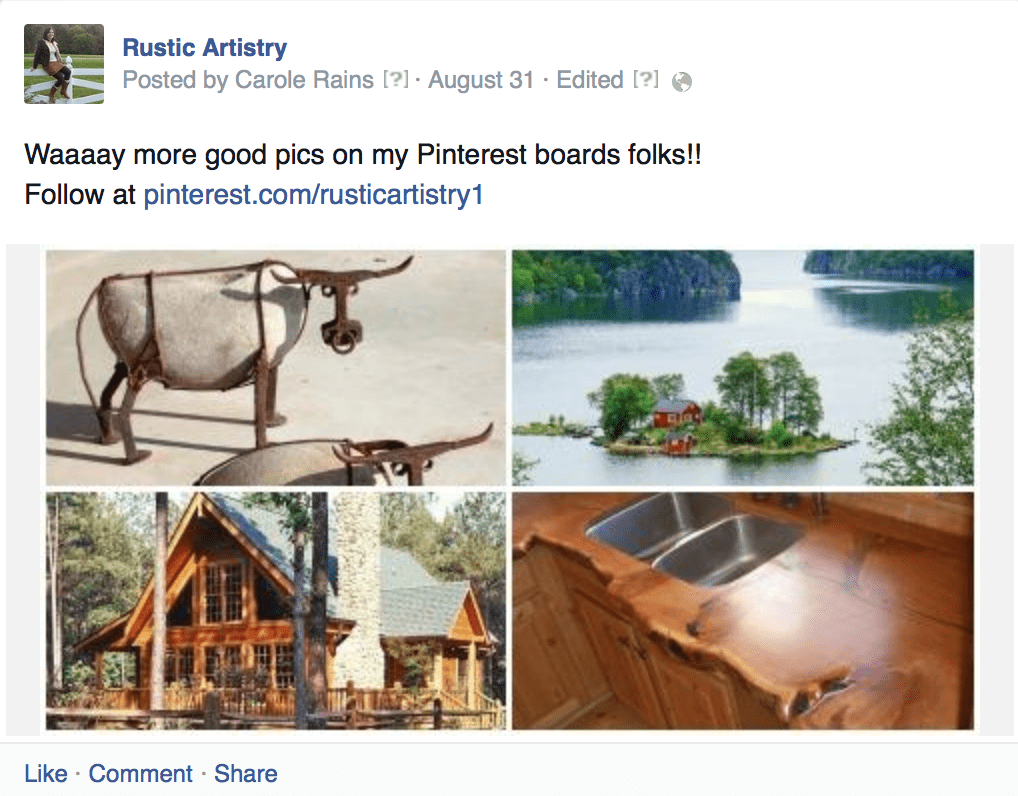 Shabbir: In my experience(I'm social media inept) I've read mostly everywhere that you can grow your social following(Facebook and Pinterest included) by promoting them on your website. To me, this is a chicken and egg problem. If someone has a brand new site, where are they going to promote from?
Carole: I promote my Facebook and Pinterest accounts wherever I can. That includes having linking icons for them in my business email signature that I created on Wisestamp, shown here: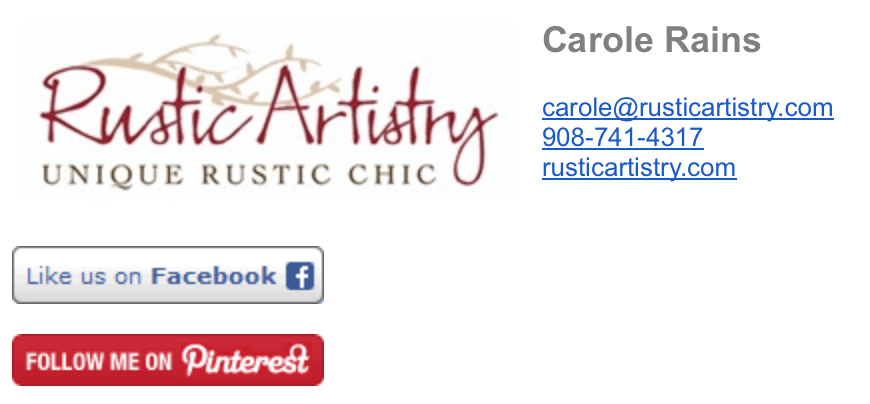 And including links to them on my website in the header and footer. There's not much you can do about the chicken and egg scenario, and I will be facing that when I launch the Emu Bliss website.
Shabbir: I completely agree with what you said about appealing to your followers' lifestyle. Where do you get ideas from? Do you scour the web, find other boards, or have like a list of sites you check every day before posting to your accounts?
Carole: For finding new content to post to Pinterest and Facebook, I subscribe to the email lists for a lot of related businesses, such as log home manufacturers, cabin and western lifestyle magazines and rustic resorts. When I find a good one I'll add it to my bookmark bar so I can access it easily. I also do Google image searches for relevant pictures. Websites for interior designers and architects are also an excellent source for quality images.
It's really important to bring in new content to Pinterest, because if all you do is repin, you risk people already having seen and repinned the image from someone else. I also create custom pins that combine 3-4 images in a vertical stack, using a free tool called PinThemAll.net if the photos are all contained in one place, like an online magazine article, or Picmonkey.com to upload images that I've saved from a variety of sources. Tall, multi-image pins are more noticeable and therefore often generate more repins.
Shabbir: How much time on average do you spend per day maintaining your social accounts? Would you consider it your primary traffic source?
Carole: I probably spend close to an hour a day maintaining my social accounts. I have to go through my feeds on both platforms to see if there's anything I want to Share on Facebook or repin on Pinterest. Plus there's the time spent on other websites looking at their photos for shareable ones. But social media is not actually my primary traffic source. That belongs to direct traffic to my home page.
Shabbir: Direct traffic is the best traffic! I don't suppose there is much "keyword traffic" for rustic decor – did you still take the plunge knowing you could offset the keywords with social? Can other businesses successfully do the same? A lot of the advice on the web is keywords, keywords, keywords, but that leaves out a lot of these boutique businesses.
Carole: When I started out, I had no expectations as to how much of an impact social platforms would have on my success. I just parlayed what I already knew about Facebook and Pinterest into a marketing format. Most of my traffic comes from Direct and Organic equally, but the majority of my sales have come from organic search.
I think the reason may be that once I learned about alt tags for images, I've been really diligent about including them, so my products show up when people do image searches on Google. For example, if you search for "cowhide rocker" I have the first position in Images, and the second position in the text listings (right behind Amazon, is there anything they don't sell??).
I haven't done any Adwords or Google shopping campaigns, although that is high on my list moving forward. For other businesses just starting out, if your product lends itself to image search, like my furniture does, then invest the time in getting your alt tags set up with keywords. I installed a plugin about 6 months ago that let's me customize the title and meta description that show up on google, so I've been filling those with keywords for all new products as I add them. I have not keyword-stuffed my product names and descriptions that appear on the website product pages though
Shabbir: What's your gameplan for emu oil? Social, search, PPC, or everything?
Carole: Oh boy, the emu oil project!! My game plan for that is to do a lot of Facebook advertising using Ezra's Channelizer program. (In case you didn't hear about that, it's a course and templates to funnel Facebook ads to a squeeze page then to a standalone product page that then links to your Amazon page. You collect emails on the squeeze page, which also offers them a coupon code to use on Amazon.) I'm also running ads on the Yahoo Genesis network, which are PPC ads that show up in the news feed.
And I'll definitely run Google shopping ads, Google and Facebook retargeting ads, Facebook website custom audience ads, an email campaign, blogger outreach, and possibly even newspaper ads in order to reach the market of older people with arthritis who still get their news in ink on paper format! Right now I'm working with a few people on Fiverr to create the 3 videos that will go on my website home page. I'm in the process of getting my products private labeled so as soon as that's done I'll be ready to rock and roll!!
To see Carole's Facebook page, click here, and to see her Pinterest page, click here. To check out Carole's Emu project, head on over to Emu Bliss' website.
Carole has been really kind to share her experience with so much transparency – and she's pointed out some great free online tools that we can use in our social marketing efforts. Thank you very much, Carole!
What do you guys like to do on your businesses' social media accounts? Please share with us in the comments!