This is a guest post by Ed Hallen of Klaviyo, an email marketing platform for ecommerce merchants
Did you know that welcome emails have a 60-80% open rate? Considering that newsletters average a 20% open rate, you don't have to be a "glass half full" kind of person to realize how impressive that is.
And yet, consider what most welcome emails are like.
They are usually bland, transactional, brandless messages confirming your subscription and maybe – MAYBE – tossing you a 10% coupon that'll barely cover the cost of shipping as a thank you for signing up.
eCommerce marketers: We can do better than this.
Here are some ways to spice up your welcome emails and take advantage of this customer interaction when you have their attention the most.
1. Send the Welcome Email Right Away
The striking open rate for welcome emails indicates something about consumer behavior.
First, it shows people are expecting the welcome email and they are looking for something when they see that come through their inbox – a discount perhaps?
So why wait to give the potential customer what they are looking for?
Interestingly, some retailers neglect to send their welcome emails within the first few minutes when the customer is most engaged – or, they neglect to send them at all and don't get in contact with the subscriber again until the following day's product newsletter.
This is a flawed approach.
Send the welcome email right away, right after the point of conversion. This will keep your potential customer's attention squarely on you before there is time to get distracted by cat videos and competitors lurking on the next tab in their browsers.
2. Personalize, Personalize, Personalize
Generally speaking, the fewer fields someone has to fill out in a subscription form, the better.
Of course you'll have to test this with your audience, but one additional field to request a subscriber's first name shouldn't kill your conversion rate.
In addition, it provides useful data – a name – which can be used in email content.
Fitness community Tone it Up always makes sure to personalize its emails by using member's first names in subject lines and email content. It's a fantastic way to build your brand, stand out in the inbox, and develop a one-on-one relationship with your subscriber.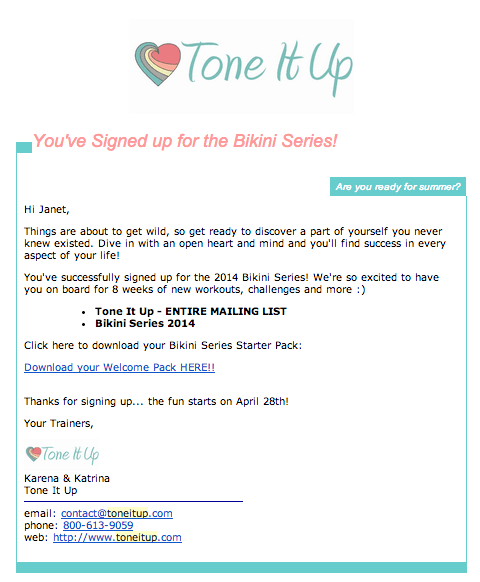 3. Build the Brand
Bumble and Bumble uses its history and identify to build their brand. Their key branding messages are that they are used by professionals, innovative, and they have earned your trust through a long history of providing quality products.
The email creative enhances this brand identity with a cool black and white aesthetic.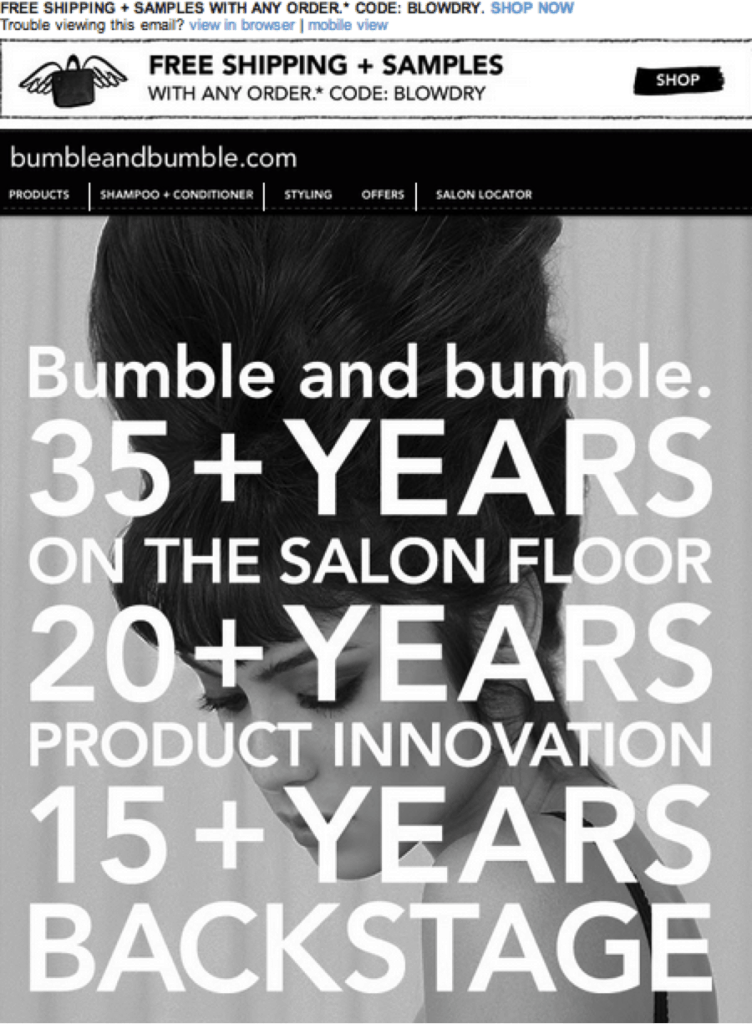 4. Discounts Are Cool If They Are Paired with a Sense of Urgency
In today's world, it almost seems like every day is a 50% off day. Given that most email communication is centered around the sale du jour, it's white noise. And worse, it has trained consumers not to purchase unless there is a discount – because surely the thing they want will be on sale within a week.
Smaller retailers and bootstrappers in particular cannot afford to compete on price alone with the behemoths that have the economy of scale. The brand, the story, the product quality, and the customer service are all ways you have to stand out.
But even still, offering discounts in the right way at the right time is a method for nudging subscribers to conversion.
A limited time discount offer in the welcome email is a great way to entice a sense of urgency when you have your new subscriber's attention.
Although not a small retailer, Banana Republic, purveyor of finely pressed khakis and otherwise preppy attire, offers a 10% discount to new subscribers that expires in 60 days.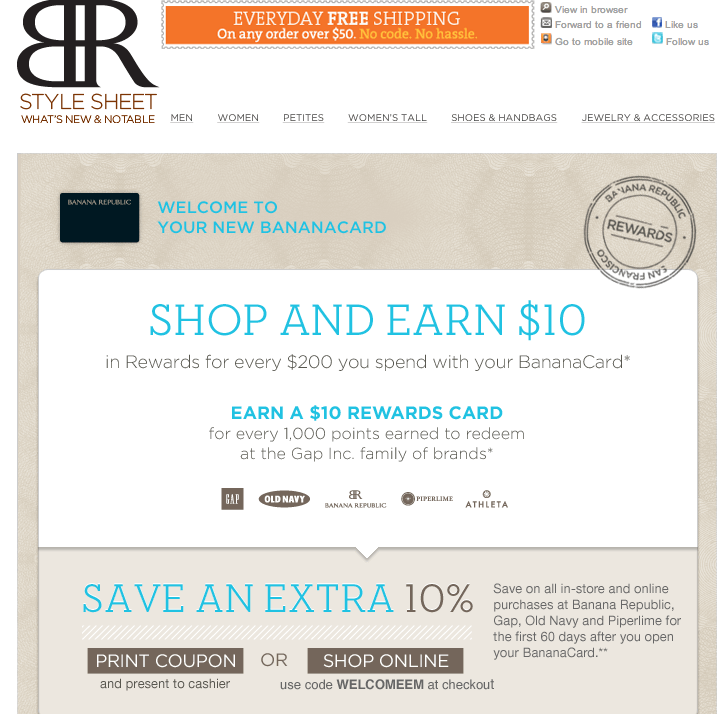 5. Go Social
Although it is a conversion, a newsletter subscription is still a top of the funnel activity.
Discounts are great, but your subscribers may need more time to warm up to your brand and learn about the need for your product before they are ready to purchase. Introducing your subscribers to your social media accounts is a perfect way to get an additional touchpoint with your subscriber each day. With your messages not only in the inbox but also in their newsfeeds, you have a better shot at staying top of mind.
Lululemon does this in its welcome email with a call-to-action to follow the brand on Instagram.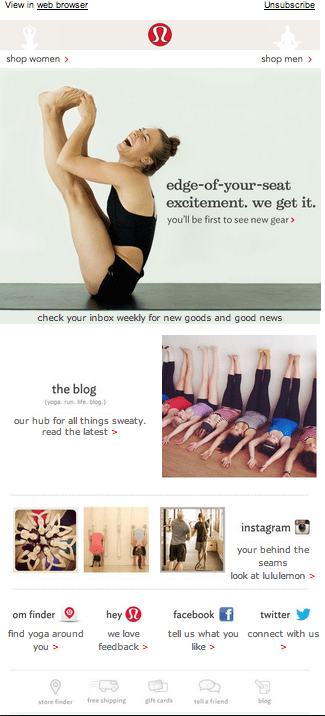 6. Go Mobile, Too
Mobile apps are biting at the heels of online commerce for share of revenue, speeding down a warpath to generate an estimated $70 billion in revenue by 2017.
It's a great idea to bring your mobile app to the attention of your new subscribers.
What's more, that newly-acquired email address can act as a customer identifier across platforms. Conversions made in the app and on the site can be tracked and acted upon in a cohesive manner thanks to this identity.
Fab does this with its welcome email.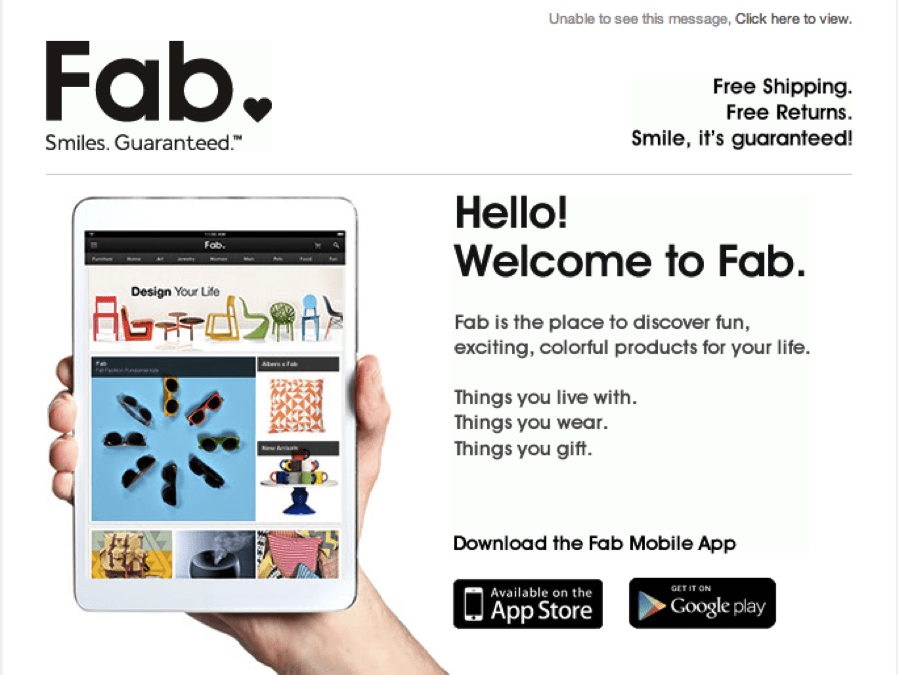 A lot of times we see new eCommerce companies skipping the welcome emails entirely because they don't think they are important, they don't know what to say, and they don't know how to set them up.
Hopefully with these examples, you can now see why it's important to communicate with your customers right at that point of their subscription to your list.
Additionally, you should now understand how welcome emails fit into the conversion funnel.
It depends on your audience and your product. New subscribers may be ready to purchase right away. Or, they may need additional understanding of your brand and product value through social media updates or engaging with your app.
Finally, some email marketing tools come with pre-built emails that make it easy to set up a welcome email in a matter of minutes.
So, the confusion around set-up is no longer an excuse for not getting your welcome emails right!
All in all, what's most important is considering your audience and your product to come up with a campaign that makes the most sense for your store.
Over to you: What kinds of welcome email campaigns are you sending? What questions do you have? Let me know in the comments.
Author Bio: Ed Hallen is the co-founder of Klaviyo. Klaviyo.com is the eCommerce email marketing platform that helps stores grow sales by using data to send better, more personalized email. You can follow Klaviyo onTwitter or get more email marketing tips on the Klaviyo blog.