Normally, I don't listen to audiobooks, preferring to read, but a few days ago, I was listening to a podcast and heard about a free one-month, one-book trial of a service called Audible. I thought, "what the hell," this is something new, and I'm getting a free book, so let's give it a shot.
I signed up, installed the app on my phone, and downloaded Malcolm Gladwell's newest book, David and Goliath: Underdogs, Misfits, and the Art of Battling Giants.
The link, by the way, goes to Amazon's page about the book.
Gladwell starts out the book recounting the story of how David, a young boy, defeats Goliath, an experienced warrior of 6 foot nine who was covered from head to toe in armor. The only part of his body not covered was his forehead.
David picks up six small stones and heads towards Goliath. Goliath beckons him, expecting a close-quarters battle. After all, that's why Goliath was so fearsome – nobody could survive against him in close-up combat. David, on the other hand, puts the stone in a sling, and begins spinning it around his head, and releases the small stone at a speed of over 200 feet per second(according to modern calculations).
Goliath falls down, unconscious from the blow of the stone to his forehead, and David kills him.
Gladwell stresses that David was the underdog – nobody expected him to win! But he re-wrote the rules – he didn't play by Goliath's game, and came at him with something he never expected.
This inspired me to take a lesson for our own ambitions. We are the underdogs. Amazon is the giant (if you need hard, numbers-based convincing of this fact, you need to read "eCommerce is a Bear" by Andy Dunn).
What is Amazon the Giant's Game Plan?
Amazon is huge. I use them, and I'm sure you use them too. Hell, Audible, the company that does the audiobooks is a subsidiary of Amazon. They seem unbeatable. They have so much clout that once they dominated selling paper books, they came out with the Kindle, cemented the concept of the ebook, and dominated selling eBooks! In an estimate of the U.K. market, Kindle sales account for 9 of 10 ebook sales!
Coming back to ecommerce related to tangible, physical products, Amazon's greatest advantages are it's size, which gives them their prices and their delivery speed.
Prices on Amazon.com are ridiculously cheap. It's as if there is no such thing as an MAP policy over there. Shipping is, for all practical purposes, free. If you are a member of Amazon Prime(I was when I was living Stateside), you get free 2-day shipping on everything Amazon sells or fulfills.
If you or I try to compete with Amazon by trying to match up with them on price, you are just running right at the giant. One swing of his sword, or one blow from his shield, and you are history.
If you try to compete with Amazon just by offering free next day air shipping to all of your customers, you won't bring home much dough.
Amazon also comes by traffic really easily. They are on the first page of Google for most commercial keywords, and they have a ridiculously high ad budget. So if you try to out-spend them on ads, good luck, unless you have $60 million to spare.
But if we look at the organic side of it, a little flaw starts to show itself. Amazon is everywhere, but that's just because Google doesn't find another relevant page for that particular search term.
Amazon's Exposed Forehead
Amazon lacks two major things: personality and focus.
In the olden days, Amazon used to be a bookstore. The name Amazon was synonymous with books. Then they started selling everything under the sun, and now they are "Earth's largest selection." Which means they have stretched themselves pretty thin, and this is their weakness, so to speak.
From  a bootstrapper's perspective, what kind of online stores do you think are least afraid of Amazon? Stores that are giants in their niches? Or stores that have laser-focus and a helluva lot of personality?
I'd put my money on focus and personality. You see, if you are the giant in your [broad] niche, you are still stretching yourself pretty thin. Once you reach a certain scale, you also end up in Amazon's crosshairs. This means you are now trying to fight Amazon by their rules, and in this case, you are grossly outgunned.
This is not to say that the giants are doomed – it's just that they need that many more resources and time and effort – and that's not the goal of our bootstrapping system. They do make millions in revenue every year, but their costs are just as high – and their mistakes are that much more costly. The bigger they are, the harder they fall!
Let's look at the other side now. A few days ago, I found out that an entrepreneur called Eric Bandholz got his 2000th order, about 7 months after starting his store: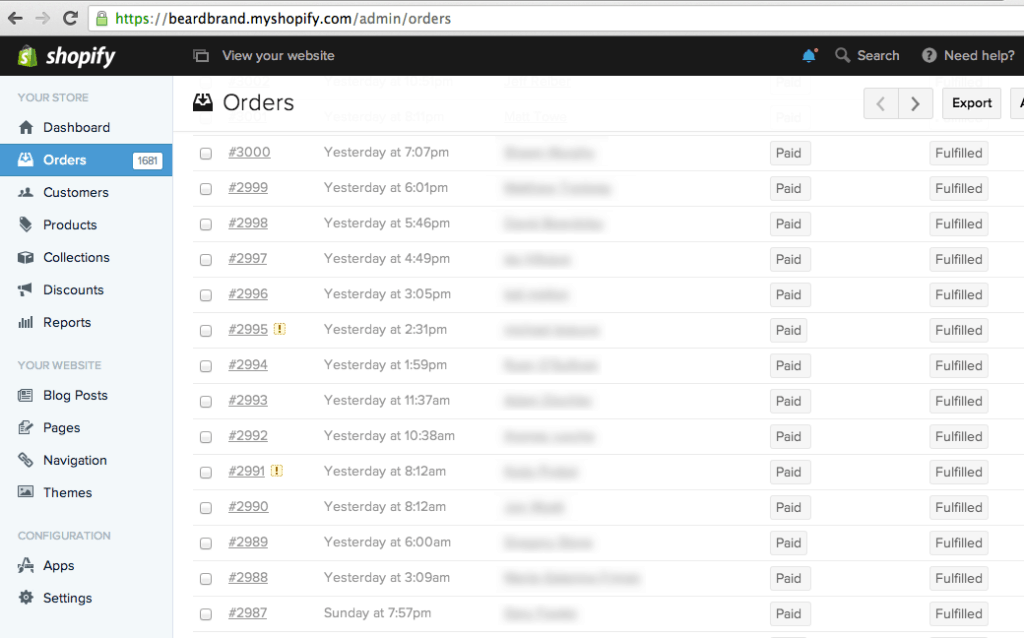 You know what he sells? Beard oil!
Up until now, I had no idea there was such a thing! And this is coming from a bearded guy himself!
I checked out Eric's store, which is called BeardBrand, and it was just awesome! Have a look for yourself. He is doing everything right. His store has personality. It's got an extremely targeted focus. On his site, he says he caters to "the urban beardsman." That's just crazy awesome.
His product descriptions are really cheeky and to-the-point. Because his stuff is so unique, some of his products already have over 100 reviews:


What BeardBrand is Doing Right
But that's enough conjecture. Let's get into some hard numbers. Because Eric's site has so much personality, and is so targeted, he is already floating around the #1-3 spots in Google for "beard oil." "Beard oil," by the way, is searched for 6,600 times a month!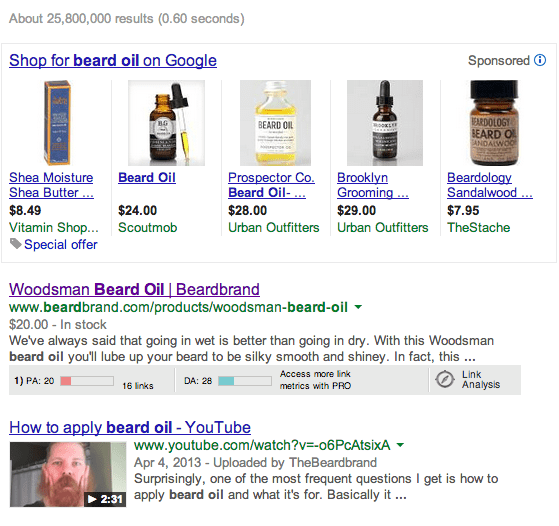 Also, because his products are so unique, more than 30% of his traffic is social! That is every ecommerce store owner's dream – to have your existing customers go out and get you new customers. He doesn't have to pay for traffic – his paying customers send him new traffic!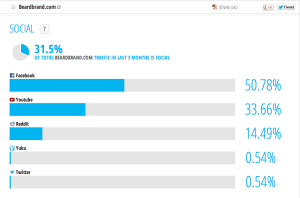 Eric also took advantage of an extremely powerful medium – a medium which very few people have tapped. Youtube videos! In fact, as you saw in the image above, Eric's video on "How to apply beard oil" is ranking right alongside his page itself. But luckily, his Youtube video has a link to his own site which is sending him traffic anyway!
On his "About" page, Eric talks about starting the store because there was no satisfactory product/information available for beard care. In uncovering his niche, he effectively scratched his own itch(sorry, I couldn't help it!). And because it's a personal care product, people are much more trusting of Eric when they see a guy with a giant beard selling beard oil(and demonstrating how to use it).
Think of it this way – if you wanted to buy something really personal, would you get it from a Walmart, or would you prefer going to a boutique that specialized in the product you needed? I would choose the boutique. Maintaining a beard is hard work. I'd trust a guy with a long beard any day, rather than a random box on a drugstore shelf.
Conclusion and Takeaways
Amazon is only big and scary if you try to play by their rules in their home stadium. Rewrite the rules and you will be surprised at the success you will find. Here is a quick shortlist of tips and ideas to make your store successful in an Amazonian world:
Don't be a Walmart. Be a boutique.
Sell an experience with your product.
Scratch an itch(your own itches are a good place to start brainstorming)
Leverage social media to get you traffic
The more unique you can be, the better(did I mention BeardBrand was featured in the New York Times?)
Sling a stone, don't fight with a sword!
Do you have any ideas/ways you have been successful in an Amazon-dominated world, or just a question or a thought? Let me know in the comments!